May Hill Farm is a family owned farm just outside of Lomira, WI (south of Fond du Lac, North of Milwaukee).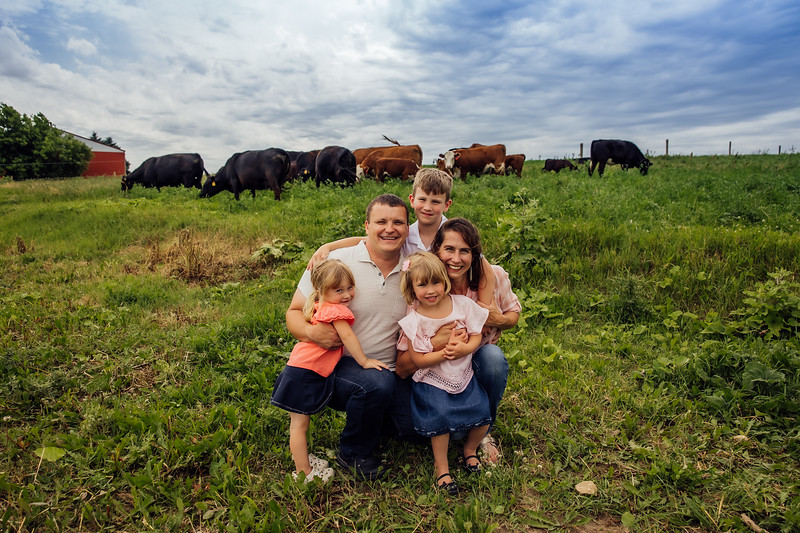 Joe and Carrie both grew up in the country (his parents had a small farm) and are thrilled to be raising our three children on our farm!  Joe has an Agriculture background and knows ALL THE THINGS when it comes to animals, fields, and equipment.  Carrie utilizes her project management skills to keep things running; which is crucial when juggling butcher schedules, marketing, sales, and three kids!  Our kids are involved in many of the chores that happen around here and are learning a lot.  We farm because we want to provide good food for our family and yours…and let's be honest, we apparently like challenges! 
Knowing what you are eating, where it came from, and how it was grown/raised is something you may be searching for.  Being able to put a home cooked meal on the table is something we find value in and hope you can experience as well.  Home cooked doesn't have to mean time-intensive or expensive either.  We have had the pleasure of traveling and experiencing some amazing meals around the world, but we know how important it is to sit down at the table with your family over a simple (yet delicious) meal and catch up on the happenings of the day.
We are so thankful for all our customers and support from the community.  We strive to provide nutritious food (we eat it too) and excellent customer service.  
Thank you for following us on this journey and supporting our farm!