The on-site farm stand is now restocked with honey for the 2022 season!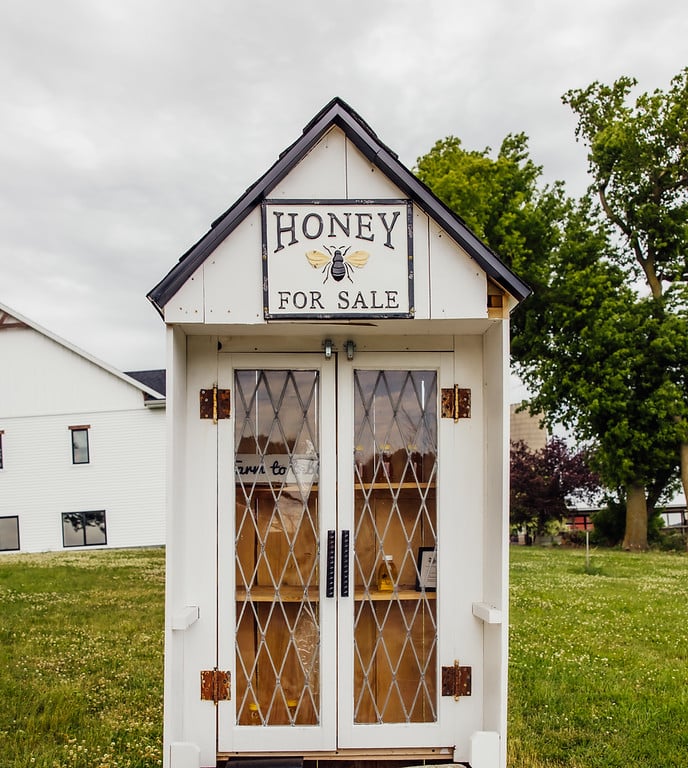 There is now another convenient way to shop for products from the farm.  You can stop by the farm stand to shop for local raw honey any time!  It is a self serve stand with two different sizes of honey (3/4 lb. and 1 lb.).  
Honey Bear 3/4 lb. $6/each
1 lb. Jar $8/each
Make sure to sign up for our newsletter here and follow us on social media (Facebook and Instagram) to see updates on what is out in the farm stand.  We occassionally add a cooler with eggs on the weekends.  We will not be able to put meat out at the stand as it is not equipped with a freezer, but we are more than happy to get an order ready for you when you stop out.  You can place an order through or website or email us at carrie@mayhillfarmwi.com.
You can pay with cash, Venmo, or PayPal when you purchase from our farm stand.  It is located in the East driveway on our farm, we also call this the second driveway or the driveway to nowhere!
We are excited to provide convenient ways for you to feed your family with local food!